Mogoro's Tradition
History tells us that in the first half of the nineteenth century there were still over six hundred hand looms at work in Mogoro: more than one per family. So one can easily understand just how deeply imbued is the tradition of weaving in this small town in the Province of Oristano.
Today their work is no longer carried out at home;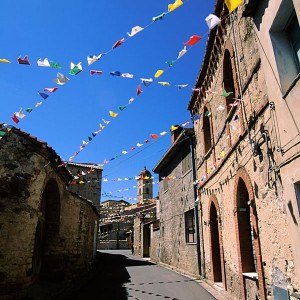 nevertheless, the artisans, who are the heiresses of this culture, make use of exactly the same materials, techniques and instruments as in the past. What though has changed is the way they approach their work. Once upon a time, these weavers would merely follow the counsels offered by their mothers and family custom: nowadays, they are also guided by a wider and more articulated understanding of their local traditions. This more scientific approach pools and then compares each different family methodology, examines those artefacts preserved and shares each technical secret, in order to choose the best. In this way, it has been possible to continue manufacturing the most precious articles as well as those which present the greatest technical difficults.
There are, for example, the tapestries, that at one time were woven in the surrounding towns and villages but now only at Mogoro.
These are hand-decorated with raw wool, gold and silver thread during the weaving process, then tapped down at each combing through of the loom. This particularly laborious technique, called 'a bagas', makes it possible to create the most complex designs and patterns, of a compact, rich and precious texture, where the quivering brightness of the metal threads counterpoints these tapestries' characteristic joyous, floral explosions. Faithfully reflections of those fleeting springtime weeks, which every year adorn the surrounding hillsides with colour and light.
Another important defining characteristic of Mogoro's needlework is the overriding insistence upon the individual of their common inheritance, which results in an artistic expressivity as free and distinctly personalized as it is both acute and 'pure'.
Another reason why Mogoro's weaving tradition has neither fossilized nor degenerated into folkloristic mediocrity.
But at Mogoro they also produce carpets and numerous other artefacts, whose composition is original, dense and rich with decorative motifs. This is true for those articles woven in relief as, for instance, the 'a pibiones' carpets.
'A pibiones' is a dialect term which indicates the bobbles which jut out from the carpet's surface as a result of an extra thread, being wrapped around a metal stud along the warp yarn.
Questo post è disponibile anche in: French, German, Italian, Russian, Spanish